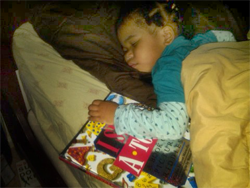 © Gina Xavier
Two year old Corrine, of Yorktown, Virginia, falling asleep
with her favorite book, I SPY A TO Z.
Review of I SPY A TO Z
I asked my long-time friend Beth Kolehmainen to tell me truthfully what she thinks of I SPY A TO Z. Beth is a retired Headstart, nursery school, and kindergarten teacher who taught children in New York City, London, Greece and Dubai. She was Associate Professor of Early Childhood Education at National Lewis University in Evanston, IL and a lecturer in Early Childhood at Southern Queensland University in Hong Kong. We grew up next door to each other. Here's what she wrote:

I like I SPY A TO Z. I like the design of the generously large book with bright colors that send the child's eye to the pictures. I like the way you put the object after the word. That is a great idea...especially for 3 to 5-year-olds. It is good for getting them to look not only at the photos but also to zero in on words representing something to see. The writing is large enough for the young child to see and touch clearly. This book provides a wonderful "Point and Say" experience for early readers. I also like the red letters. How else would the children know that this is the A page? Kindergartners love to point to words and to letters. They can do other things with the letters, too: they can count the red letters on a page and look through the book to find the letter that starts their name. Having the letters highlighted is a good feature. While some people may worry about introducing phonics when children are too young, I don't consider this book a phonics negative. I SPY A TO Z gives young kids a chance to learn about letters--how they make words and how they all relate to the book. The rhymes are catching and elicit an excited response to problem solving. This book works on many levels.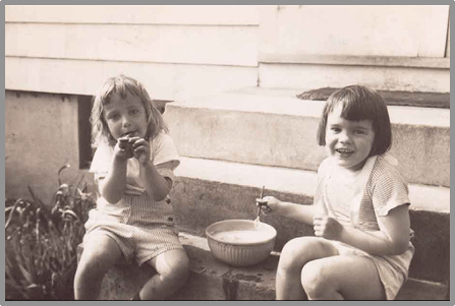 Beth and Jean blowing bubbles at age 4.