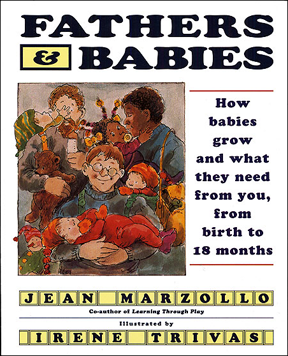 I wrote Fathers and Babies in 1993. I'm very happy that it is i still in print. You can buy it in paperback and also get it from Amazon on Kindle! It's a reassuring book with lots of good, practical advice for dads, and it covers the amazing time from birth to 18 months. Today many wonderful fathers participate in the care for their children.

The fantastic illustrations by Irene Trivas are warm and funny. The babies are adorable, and so are the dads. Take a look.
PS: Sadly, my book Fathers and Toddlers is no longer in print. It too was illustrated by the wonderful Irene Trivas. Happily, you can see it for free: just click on the button at the top that says "Free eBooks."
"Marzollo inspires dads and dads-to-be in this unique advice-filled guide that covers all aspects of infant development from the physical and social to the intellectual, psychological, and creative. This book, which "shows fathers how they can participate and celebrate in the development of their babies' earliest months," is a light, thoughtful, reassuring, and informative fatherhood manual that is essential for all public library collections." SCHOOL LIBRARY JOURNAL
"Now fathers can find answers to many of their parental questions … a guide to baby care that's tailored expressly for dads". ASBURY PARK PRESS