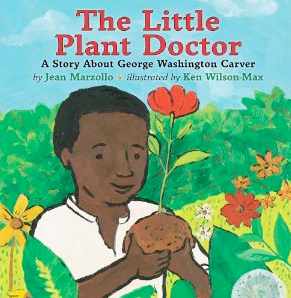 A Book Report
The Little Plant Doctor by Jean Marzollo
George Washington Carver takes care of plants.
Then he gives himself a new name, George Washington Carver.
by Patrick Finbarr Bowe
First Grade, Iona Grammar School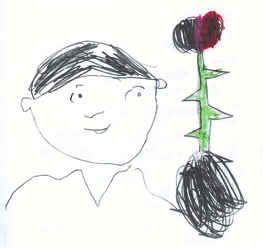 Note: Historians don't know when he was born.
He was born around 1864. He died on January 5, 1943. See the last Q&A page in the book.


In April 1995, I was the guest author at a Young Authors Conference presented by Missouri Southern State College in Joplin, Missouri.
Dr. Nancy L. Smith, the coordinator, took me to visit the nearby George Washington Carver National Monument and Park. There, we walked through sunny green fields and woods to the small cabin where George Washington Carver lived as a child.

I could imagine him digging up his "floral beauties," as he called them, and putting them in little gardens he had hidden in the brush.

Dr. Smith told me that she thought George Washington Carver was "as smart as Einstein and as good as Jesus."
The facts of his life are harsh, she said, but Carver overcame them. Like a plant drawn to the sun, he moved steadfastly toward the light of knowledge and compassion. He wanted to become a scientist, and he became one.
He also wanted to become an educator, and he became one. He loved to paint and sing. Against all odds--the loss of his parents and siblings, sickness, discrimination--George Washington Carver flourished without bitterness. He is one of our great American heroes because, no matter what he was doing, he always tried "to be of the greatest good" to people. Dr. Smith suggested that I write a picture book about him.

And so I did. I worked on it off and on for years. I went back to the Carver National Monument to do research. I am happy now to thank my editor Grace Maccarone and art director Claire Counihan at Holiday House, as well as Ranger Curtis Gregory at the Carver National Monument, and the fabulous illustrator Ken Wilson-Max. This book for me is a dream come true.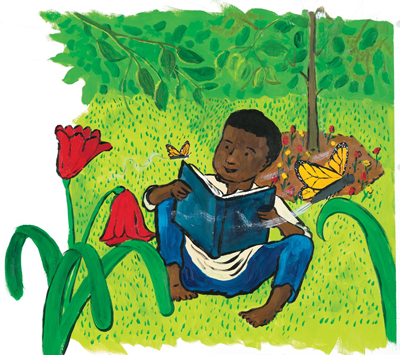 Marzollo's gentle biography of botanist Carver is told from the perspective of a tree that bears witness to his early fascination with plant life. Wilson-Max paints Carver's childhood garden with broad, smudgy shapes and thick outlines, as Carver laments that he isn't allowed to attend school with white children. But after studying plants and learning to read, he goes off to school and makes a name for himself. Publishers Weekly
Jean Marzollo introduces children to a great scientist and encourages them to cultivate a sense of wonder and a desire to explore ... Bright, bold illustrations by Ken Wilson-Max underscore that science and learning are fun! Goodreads
The Little Plant Doctor is an interesting addition to the collection of children's books about George Washington Carver. This is the first narrative I have seen about his childhood. I like the text level in that it will be accessible for first and second grade students who are just learning about biographies. NC Teacher Stuff