I SPY Poster
This fabulous I SPY poster was made by Rebecca Chmelar's preschool class at the James M. Brown Elementary School in Walhalla, SC. The poster, an entry in the I SPY Poster Contest, won the school a visit from Jean Marzollo in May 2011.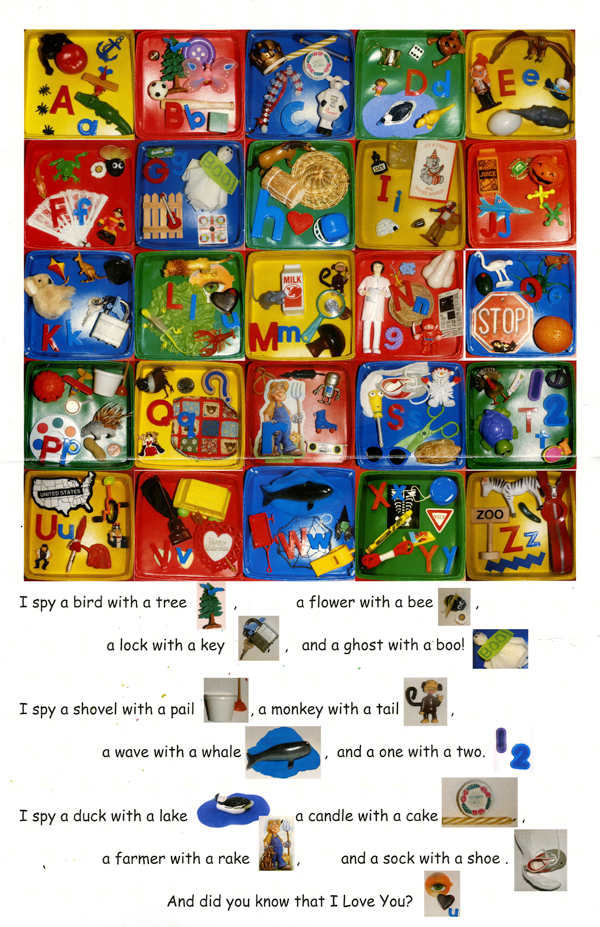 I SPY Birthday Cake
The cake was actually my little girl Layla's birthday cake. I asked her what type of cake she wanted and she said
"I Spy cake, Mommy!" She loves I spy books. We go to the library, and it's so cute to see her ask the librarian, "Where's the I spy books, please?" I was so pleased when Jean Marzollo offered to write an official I SPY riddle for Layla's cake!
Leah Garcia Robles
Fresno, California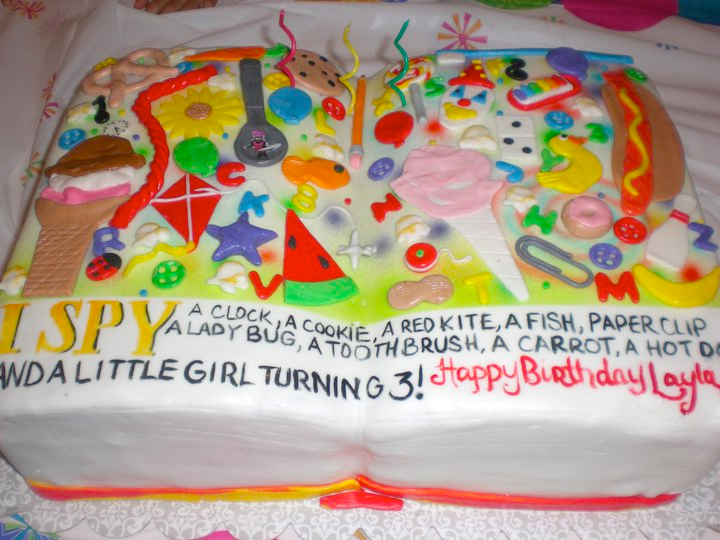 I spy a carrot, a ladybug, a Z,
A watermelon slice, a duck, and a T;
A flower, a cookie, a paperclip, a C,
Ice cream and cake for Layla who's 3!

I SPY Quilts for Babies, Infants and Toddlers
Dear Jean,
I was introduced to I Spy quilts by a close friend named Jenn who is a mother, grandmother, expert sewer, and 25+ year elementary teacher with specialties in math and reading. Jenn has a sister who is a fabric Van Gogh as well as another sister who also quilts and sews a great deal. With the help of these sisters I, who used to sew a great deal and even made my own wedding gown, learned about I Spy quilts and began the process of creating ones of my own as gifts for the new babies of special people in my life.

Keeping in mind that babies, infants, and toddlers are the recipients of these quilts, they are sized accordingly. Four of the five ones pictured in the attachment consist of 80 squares of individual fabric with each square cut using a plastic template and a rotary cutter. The squares are 4"x4" in rows of 9 both horizontally and vertically. The 81st square, in the middle, is some form of the challenge to "I Spy." The center square I used consists of an embroidered spyglass with the words "I Spy" and embroidered lady bugs for decoration. My friend's fabric Van Gogh sister, Laurie, makes these center pieces for all of us. (One of the quilts pictured has the words "I SPY" in embroidered cursive writing.)
I SPY Cousins Quilt
In 2000, I wanted to make a quilt for each of my 15 grandchildren, and I thought that I'd do patchwork quilts, out of fabric selected by each child. I decided to create I SPY Cousins quilts. As I was stitching the pieces together,
I began to see specific things, and little verses would come to me, and so I started writing them down. I could see the fun my grandchildren could have as they searched for the items in the verses.
My grandchildren treasure their quilts and when I have been babysitting them, we have had the opportunity to go through their books, read the clues and search for the items. This has created many hours of entertainment and fun for us!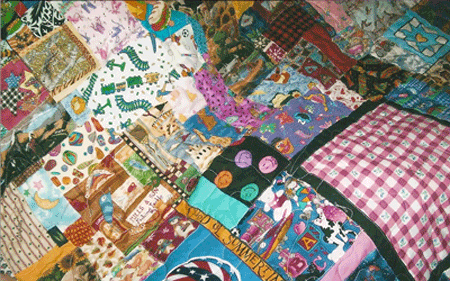 © Sondra Smith 2009-2010
Sondra Smith
Eagle Mountain, Utah.
Kathy Killingsworth, Media Specialist, Maize Unified School District 266, Wichita, Kansas writes: "Maize South Elementary School's eight 5th grade classes used tips* for writing riddles and making photos, and created their own I SPY project. After editing and re-editing, we discovered that it was a lot harder than it looks!
* Tips can be found at
http://www.jeanmarzollo.com/ISPY/TeachingGuide.html
http://www.jeanmarzollo.com/ISPY/rap.html
http://www.jeanmarzollo.com/ISPY/myspy.html



© Maize South Elementary School 2009-2010

I spy a Butterfinger™, and five Milk Duds™ too,
Three Tootsie Pops™, three Crunches™ that are blue;
Thirteen Tootsie Rolls™, and six Reece's™ cups,
And one BabyRuth™ that will lift you up.

Mr. Finn's 5th Grade

I spy two lizards, a shell, three dogs,
A zebra, a sheep, and a red spotted frog;
Seven shiny dolphins, the fur of a mink,
Two penguins, four spiders and bones that link.

Mrs. Hartzog's 5th Grade




© Maize South Elementary School 2009-2010




© Maize South Elementary School 2009-2010

I spy five watches, two red Christmas lights,
Two hollow hearts and a music note that's white;
A silver stocking and a fish that's blue,
A diamond-studded "A", and a blue feather, too.

Mrs. Henderson's 5th Grade

I spy two pink dice, a purple flower too,
Nine little hearts and a football that is blue;
A quarter, a penny, and a silver hoop,
Twenty-two marbles, and a lock with a loop.

Mrs. Hultman's 5th Grade




© Maize South Elementary School 2009-2010




© Maize South Elementary School 2009-2010

I spy a "FRANK", a longhorn, two bats,
A pair of goggles, a purple Wildcat;
A FedEx™ logo and a five pound bar,
A ticket, a thumb, and two medals with stars.

Mrs. Hunter's 5th Grade

I spy four pentagons, a white fish too,
A black "e", a NERFball™, and two yellow shoes;
RAWLINGS, two elevens, and a ball with spikes,
A bird with feathers and six that's underlined.

Mr. Pauly's 5th Grade




© Maize South Elementary School 2009-2010




© Maize South Elementary School 2009-2010

I spy a little dog and sunglasses too,
Eight Washable Markers and a little blue shoe;
Count five diamonds and some Elmer's™ glue,
Four grey mice and a bracelet too.

Mrs. Weston's 5th Grade

I spy five rulers and a bottle of glue,
Hand sanitizer, and a crayon that's blue:
A box of colored pencils, and a paper clip,
One mini globe, and three scissors that snip.

Mrs. Koci's 5th Grade




© Maize South Elementary School 2009-2010
Kathy Killingsworth, Media Specialist
Maize Unified School District 266
Wichita, Kansas
I SPY Christmas Ornaments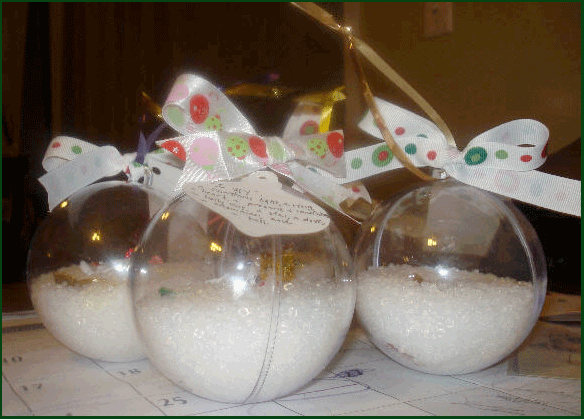 © Ranee Lyman Valentine and Pamela Squires 2008-2010
Each year at Christmas my children exchange homemade ornaments with their cousins instead
of presents. This year we made "I SPY" ornaments. Another 1st grader mom, Pamela Squires and I
came up with the idea, and she wrote the poem on the tag:
"I spy 2 snowflakes, a star from the night, A golden ring, and a Christmas light;
A holly leaf, a snowman, a little white dove, 2 bells, a present, and a heart full of love."
We are making them with our daughters' first grade class at their Christmas party on Friday.
They are super simple to make. I ordered the empty craft ornament balls (4-inch) off of eBay.
I then filled one side of the ornament with Polypellets (1 c.) purchased at Walmart.
I then put in 10 small Christmas-y items: confetti snowflakes; heart, holly leaf, and star beads, "gold" ring and tiny dove (from the bridal dept at Hobby Lobby), miniature Christmas light, and present (from Hobby Lobby's miniature doll house dept), 2 types of small bells, and a snowman button. I glued the 2 halves together securely*, tied on the tag and a ribbon, and that is it! They have been a huge hit.
* Make sure that the children can not open the ornaments.
The small items inside could be a choking hazard for young children.
Ranee Lyman Valentine and Pamela Squires
Cheyenne, WY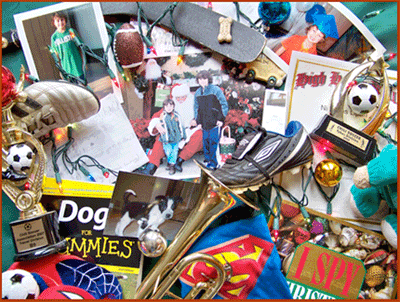 © Patricia Lipari 2009-2010
I SPY...
Two super heroes and Santa with the boys; a horn to blow,
an apple, and Christmas lists full of toys.
A 5th grader, kindergarten for my baby (!) and trophies for two;
spiky shoes and oh-no-what-were-we-thinking, a puppy too!
A time for joy, a time for friends and family to be near;
Merry Christmas and Happy New Year!
It couldn't be just any old card... I mean, I work at Kodak, and people have certain expectations.
Then I read Jenny's post about her photo Advent calendar and Tom's post about his Christmas
cards through the years! But I had a case of writer's block. I scanned the internet looking
for inspiration.. nothing.

For a brief period I even dreamed of skipping cards altogether this year. Who would even notice?
Based on the feedback on my Facebook page, this was not going to be an option.
And then it came to me. My boys love reading I Spy books. I think we have every one. My youngest is
getting I Spy software for Christmas (shh, don't tell him). So I asked both of them to collect some items
that were important to them and told about the year they had.
We made most of the clues pretty easy since many people who get our cards might not be the
I Spy fans we are. But even my husband was stumped with the apple. See if you can find it.
Patricia S. Lipari
Marketing Communications Manager
CDG WW DC&D MARKETING COMMUNICATIONS
Rochester, NY