I wrote this book because the talented children's book illustrator Laura Regan asked me to! She used to live outside of San Francisco, knew all about Pierre, and wanted to illustrate a book about him. She illustrated my board book
Mama Mama/Papa Papa and Sun Song. Her specialty is painting animals. I was honored that she recommended me to write Pierre's story for Sleeping Bear Press. Because the other books that I created with Laura were written in rhythm and rhyme, I hoped to do the same for Pierre, before I went to California to meet him. Laura and I went together to the California Academy of Sciences. We even got to go into the penguin tank with "Senior Aquatic Biologist Pam." The minute I heard her title and name, I realized that those four words have the same rhythm as I SPY! That clinched it - I would definitely write about Pierre in poetic form.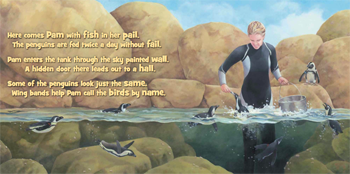 Copyright © Sleeping Bear Press
Here's a picture from the book that shows
Pam feeding the penguins.


"Stories don't come any sweeter than this ...This is an excellent book to share with children as it offers multiple discussion points and curriculum connections."
LIBRARY JOURNALS
"Told in rhythm and rhyme, this true story of veterinary ingenuity charmingly comes to life." AMAZON.COM
"In this delightful new book, children of all ages will learn how creativity and ingenuity saved little Pierre. Told in rhyme, this heart-warming story will charm the scientist and animal-lover in everyone and is a great springboard for a variety of science lessons."
SLEEPING BEAR PRESS
"Using a cute and catchy rhyme, author Jean Marzollo tells the true story of a bedraggled penguin and the human caretaker who hit upon the perfect solution to his problem. Kids who have a problem with teasing will be able to identify with Pierre and the illustrations by Laura Regan will make them smile. At the end of the book, Marzollo and biologist Pam Schaller include a Q&A page for curious kids who want to know more about these flightless birds." SIMCOE.COM
"With amusing rhymes and delightful illustrations, the
hope-filled story in this book will warm readers'
hearts." THROUGH THE LOOKING GLASS
CHILDREN'S BOOK REVIEWS
"When [non-fiction books] are accompanied by rhyming text that reads like a fun piece of fiction, it's an absolute win-win. Pierre the Penguin: A True Story by Jean Marzollo and illustrated by Laura Regan falls
squarely in this category." 5MINUTESFORBOOKS.COM
"In this delightful book, children of all ages
learn how creativity saves the penguin. Told in rhyme
by noted I SPY author Jean Marzollo, who has
written more than 100 children's books, and
paired with the gorgeous paintings from noted wildlife
artist, Laura Regan, Pierre the Penguin is a
true story of veterinary ingenuity brought to life."
SIRREADALOT.ORG
"This scientific success story is told in engaging rhyming couplets with Regan's realistic illustrations to captivate young eyes" SAN FRANCISCO CHRONICLE
My books Mama Mama/Papa Papa and Sun Song
were illustrated by Laura Regan, too.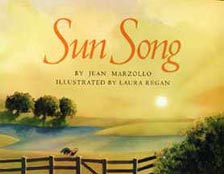 African Penguins have recently been listed as Endangered by the International Union for Conservation of Nature because recent data has revealed "that they are undergoing a very rapid population decline, probably as a result of commercial fisheries and shifts in prey populations. The trend currently shows no sign of reversing, and immediate conservation action is required to prevent further declines."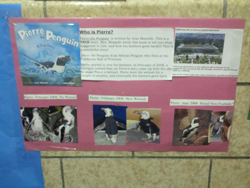 Click here to see how one innovative teacher used
Pierre the Penguin in her classroom.